About Us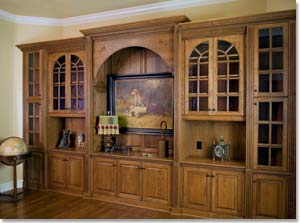 Woodscapes Interiors has been providing solutions in cabinetry to North Central Florida for over 20 years. With a personal history in cabinetmaking, as well as residential construction, we are able to quickly define working solutions and dovetail them with progressive design elements in order to execute any given project. Our experience in construction also allows us to see solutions where typical trouble areas sometimes occur .... before they happen. From the beginning, our mission has been to provide an unmatched cabinetry buying experience. To achieve this, we are committed to providing the best value in service, quality, and beauty available. Using our experience in cabinetry solutions, we meticulously detail and organize your desires, for both aesthetics and function, into practical and executable designs.

Woodscapes Interiors offers highly customizable cabinetry solutions that can be designed to achieve any look desired. Cabinetry solutions is more than just cabinets. Cabinetry solutions involves integrating cabinetry into your home in a way that fits your lifestyle and addresses your specific needs and aesthetic desires. Our designs are highly personal and created to cater to your unique personality as well as tailoring to any budget level.

Feel free to browse our gallery and catalog pages to see some of the things that we can do to help you achieve the home you have been waiting for. Take these accomplishments of ours and use them as a starting point for inspiring your own ideas. Then, contact us to get started.