Cabinet Construction

Woodscapes Interiors cabinetry is manufactured using the European frameless method exclusively. With this style of cabinet, the face frame is eliminated and the doors are hinged to the side of the cabinet rather than a face frame. This allows for complete access to the contents of the cabinet without interference when the doors are opened. The elimination of the face frame also allows for slightly larger drawers and rollout trays that span the entire width of a two door cabinet. With full coverage doors and drawer fronts, these cabinets lend themselves to a very sleek, modern look. However, by careful selection of woods, finish colors, and door styles, nearly any look can be achieved. We offer 80 standard combinations of doors, wood species, and finish options. Further personalization can be achieved by selecting one of our optional door styles, wood specie, or finish options to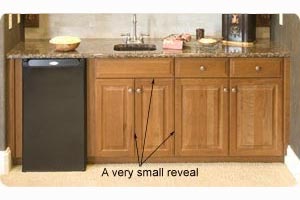 achieve just about any look that you desire.
Woodscapes Interiors cabinetry is constructed using 3/4"material for all structural components, and assembled using wood dowels and assembly screws. The result is an extremely strong cabinet. The standard material used is particle board which provides more than ample strength. Optionally, 3/4" plywood may be used. Plywood construction provides higher resistance against water damage and is often used for building sink base cabinets. Visually, particle board and plywood cabinets are identical when completed.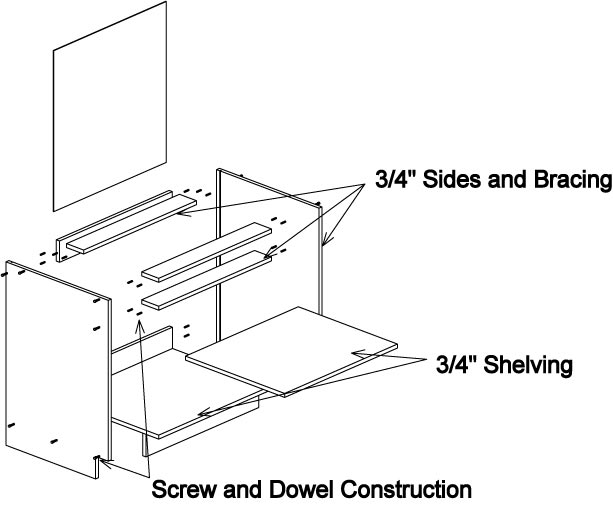 In addition to our standard drawer box, Woodscapes Interiors offers drawer boxes constructed using dovetail joints. Dovetailing results in increased rigidity and strength, as well as maximizing the usable space within the drawer box compared to some other types of joints. The dovetail (see drawing below) is comprised of sets of interlocks that hold the drawer box together.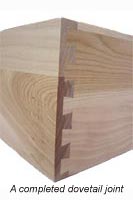 Woodscapes Interiors offers a wide range of drawer slide options. The standard slide is a side mount partial extension slide. This is our most economical drawer slide. The drawer slides mount to the sides of the drawer box, and the drawer can be opened nearly completely. Optionally, a side mount, full extenstion drawer slide may be used. The full extension slide offers an improved slide mechanism for smoother operation and is full extension, which means the drawer opens completely for full viewing of drawer contents, even at the back of the drawer. In addition to the side mount offerings, a partial extension undermount drawer slide is available.. In an undermount system, the drawer slide is moved from the sides of the drawer box to the bottom of the drawer box. With no drawer slide visible, a sleek, streamlined look is achieved. Another benefit of moving the drawer slides from the sides to the bottom of the drawer box is a slightly wider drawer resulting in increased storage capacity. All of the undermount drawer slides offered by Woodscapes Interiors are manufactured with superior bearing sets for a much smoother action than can be achieved with side mount slides. Undermount full extension slides bring the back wall of the drawer box to the front edge of the cabinet enabling you to see and access everything in your drawer. This allows full utilization of drawer space. Optionally, soft close drawer slides may be used. The soft close action automatically engages when the drawer reaches two inches from a fully closed state. At that point, the drawer slides slow the drawer and bring it softly to a rest in the fully closed position. This smooth, even action results in less shifting of contents when closing the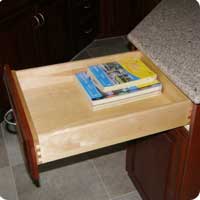 drawer.